When thinking of examples of innovative sustainable timber projects, we need to look no further than Australia for our Top 5.
Australia is teeming with creativity. We are a nation of beautiful landscapes and an abundance of natural resources. There are so many examples of beautiful architecture and innovative uses of timber to be found Australia-wide.
From furniture and furnishings to residential and public spaces. Our Top 5 sustainable timber uses span a variety of industries, however, all share one common theme – celebrating native Australian timber through an innovative application.
1. Sustainable Timber @ Play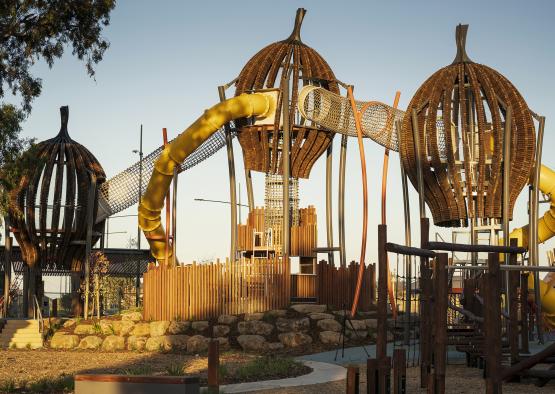 Up first is a particular favourite of ours, Gumnut Park Adventure Playground [2]. Places where kids can play freely, and safely, alongside the natural environment, incorporating play, adventure, exercise, and nature into spaces.
This fantastical world of play is located in a new community in Melbourne's Outer North within the suburb of Donnybrook.
A sizable lake with picnic tables and a pier projecting into the water lies on the opposite side of the parking lot.
Another example of the use of sustainable timber is the carved kangaroo may be found close to the volleyball court, a carved goanna and koala are close to the picnic shelters, a wombat is close to the parking, and there is a kangaroo beside the lake.
Gumnut Park Adventure Playground celebrates employing sustainable timber's as an integral role in creating a centerpiece for the new community whilst enhancing the natural environment. The park encourages visitors to spend a longer period in attendance, exploring, engaging socially, and connecting with nature.
Shared Cup Cafe, serving delicious meals and coffee, is situated just next to the fantastic playground. Definitely take the whole family to see this one.
Google Maps: https://goo.gl/maps/22syfBEtvU57HgWP8 [3]
2. Moveable Buildings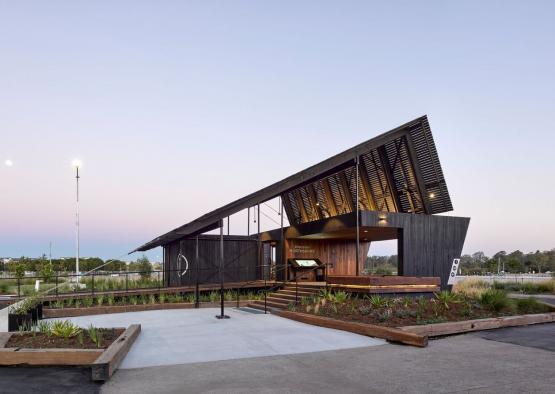 Not sheds. Up next on our list are timber constructed designed-for-purpose buildings that can be relocated or stored when not in use.
An excellent example is the North Shore Pavilion in Brisbane [5]. A multi-functional community space situated on the banks of the Brisbane River. The building is formed from two main pods with a canopy crafted from recycled ironbark timber salvaged from the local wharf.
Blurring the lines between indoor and outdoor space through clever use of decking, the building can be unbolted and packed away. Ideal for locations that are in development and can be moved to new areas of future development.
So not only sustainable but a great example of recycling used timber.
3. The Humble Flatpack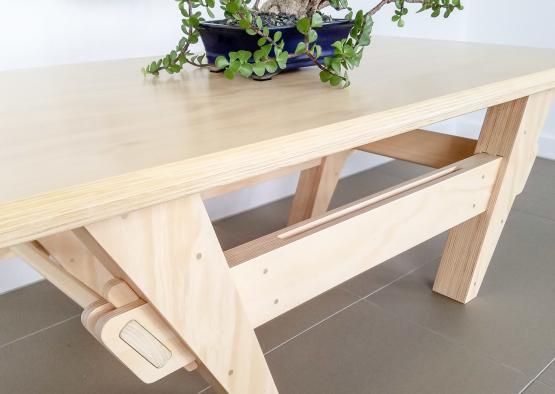 Oak and Hide [7] is a Brisbane-based designer of high-quality handmade Australian wood products.
We are strong believers in using local and sustainably sourced materials and particularly enjoy showcasing a diverse range of native Aussie timbers.
"When it comes to durability and quality, know that we set our standards high and strive to ensure our products stand the test of time."

Oak & Hide
Utilising only local, sustainably sourced native Australian timber, they have crafted their own version of a flat pack coffee table, without the need for any screws, glue, or brackets to put it together.
Featuring clever yet simple design features, inspired by traditional joinery, this coffee table showcases minimalism at its best. Putting the raw material at the heart of its design, the natural colour of the raw timber is maintained to be admired in its natural beauty.
This flat pack version, unlike its mass-manufactured counterparts, is designed with durability and longevity in mind.
A functional, stylish piece that includes a chain of custody certification, so you know the timber has been sourced from a responsibly managed forest.
4. High-Density Living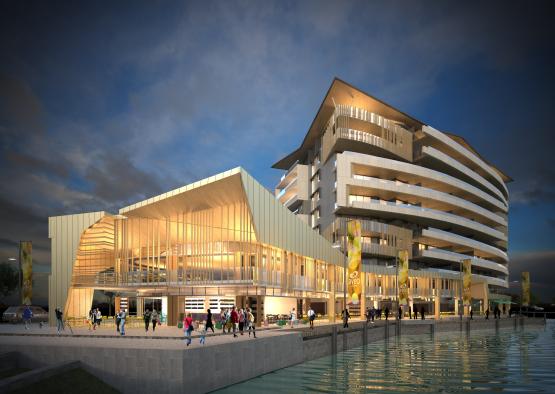 Ok so timber is not what you probably think of when you think of high rises, but we love this example of how modern-day apartment living can be made far more sustainable.
Aveo Norwest located in Bella Vista [9], NSW pushes the boundaries of what can be possible with mass timber design. True innovation for the Australian market, the project won an ATDA Sustainability award in 2018 for excellence in its design and construction.
By using timber instead of concrete as a main feature of construction, 2,700 tonnes of carbon was saved. A fantastic example of the sustainable benefits of timber as a construction material.
5. Residential Homes that Celebrate Timber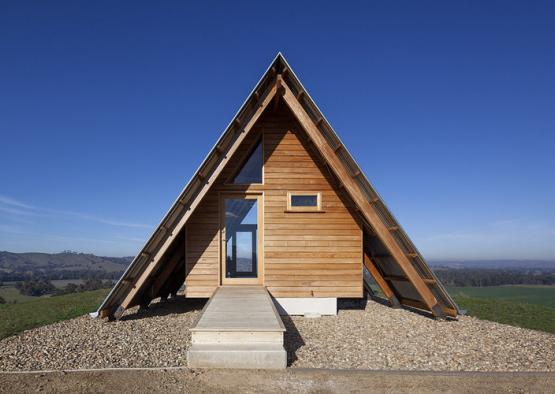 Designed by Luke Stanley Architects [11], JR's Eco Hut is a beautiful example of maximizing the benefits of native Australian hardwood to design a stunning standalone eco accommodation.
Set on a rural landscape this residential abode strongly connects with the natural setting, literally framing views of the surrounding farmland.
Timber joinery and detailing is a striking feature of the internal spaces, creating a warm inviting environment, whereas the exterior celebrates the simple timber aesthetic.
We love something a little different and the fact this home is based on the design of the humble frame tent makes it a winner.
In summary, there are so many sustainable timber projects to get excited about in Australia and around the world. Look out and take notice of those around you.
Next time you visit Sydney why not visit Barangaroo, the conversion of a vacant container terminal on the outskirts of Sydney's central business district into a magnificent 22-hectare waterfront area, which is now home to the innovative timber-designed International House [12] and The Exchange, [13] or visit a sustainable park such as WildPlay in Centennial Parklands [14].
We hope we have inspired you by showcasing just a few of the innovative ways Australian timber is being used as a sustainable resource. Make sure to check out our blog on Sustainably Built Homes the Key to Achieving Net Zero [15] to read more about the benefits of timber.
If you would like to find out more about how we sustainably manage private native forests across the NSW North Coast and SE QLD get in touch with us today.
We offer free, no-obligation assessments of your private native forest to establish suitability for sustainable management.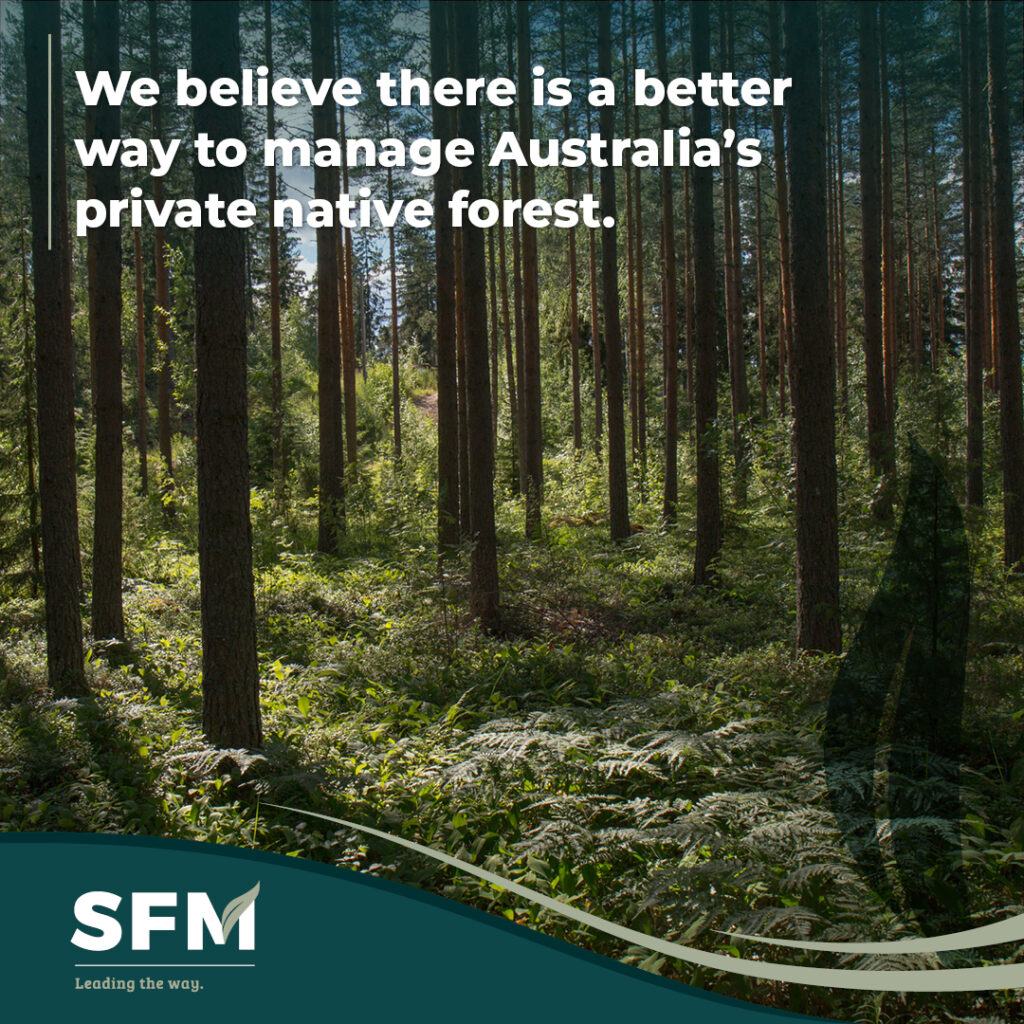 ---
References/Sources:
[1] [4] [8] Image courtesy of https://www.woodsolutions.com.au/
[2] Gumnut Park Adventure Playground Olivine Boulevard, Donnybrook – https://www.melbourneplaygrounds.com.au/gumnut-park-playground-olivine-boulevard-donnybrook#.Yvys0OxBxmA
[3] Google Maps: https://goo.gl/maps/22syfBEtvU57HgWP8 – Gumnut Park Adventure Playground Olivine Boulevard, Donnybrook
[5] Northshore Pavillion, Queensland's largest waterfront urban renewal development – https://northshorebrisbane.com.au/
[6] Image courtesy of Oak & Hide https://www.facebook.com/oakandhide/
[7] Oak & Hide https://www.facebook.com/oakandhide/
[9] Aveo Northwest – Retirement Village https://www.aveo.com.au/communities/bella-vista/
[10] Luke Stanley Architects, https://www.lukestanleyarchitects.com/
[11] Luke Stanley Architect Instagram https://www.instagram.com/lukestanleyarchitects/
[12] Google Maps, https://goo.gl/maps/ffioGQzaiUSSoMN89 -International House
[13] The Exchange, Darling Square https://www.darlingsq.com/discover/the-exchange/
[14] Google Maps – The WildPlay https://goo.gl/maps/KpaakJd2EpvugbXq9
[15] Blog Article – SUSTAINABLE HOME CONSTRUCTION, THE KEY TO ACHIEVING NET ZERO https://sustainableforestmanagement.com.au/sustainable-home-key-net-zero/