Timber sourced from privately owned forests on the NSW North Coast is a $349 million industry. As a key supplier of premium Australian hardwoods used for home construction, structural engineering, flooring and decking, timber sourced from Northern NSW is in high demand (NSW Nationals). With high demand comes some great prices and this article will provide you with the local timber values, so you can start to understand what your trees may be worth in 2023.
Landowners with a private native forest on their property who are actively managing their forests, are enabling their forests to achieve their full potential for both long term forest health and financial return. Most of our clients are able to secure some great returns on their assets.
However it's not all about immediate financial return and short term gain. A professional sustainable forest manager will help you to maximise your returns financially, ecologically and sustainably for the long term. It is recognised that timber is a sustainable resource and when harvested responsibly and utlised locally, it can even be near carbon neutral – reducing the need for transportation of resources across Australia and globally.
So are you sitting on a goldmine? Well quite literally I guess you could be given that gold is still regularly found in our neck of the woods. But more so, you likely have an untapped source of income currently growing on your property with little investment. Read on to understand the potential value of your trees.
What timber is most in demand?
Good quality timber sourced locally from monitored forests will achieve the highest return. Coastal Blackbutt, Spotted Gum, Tallowwood and Ironbark are some of the most sought-after hardwoods, due to their varied timber uses, paying premium royalties. (NENSW Forestry)
Blackbutt is one of the highest value timbers growing abundantly in Northern NSW. A tall tree of up to 40 metres or more in height with diameters reaching up to 3 metres. Blackbutt provides good fire resistance and is one of only a small number of hardwoods to be used in home construction in bushfire prone areas.
Spotted Gum is a tall species often reaching heights of up to 50 metres with a 1.4 metre diameter. Spotted Gum features a striking grain structure and vibrant colour making these native trees highly sought after by designers.
Tallowwood is a highly prized building timber coming from large trees of up 30-50 metres.
Ironbark is a hard, durable timber often used both as internal and external construction timber, including usage as railway sleepers, structural house frames, and sporting goods.
Read more about the different tree species common to Northern NSW.
Monitored Australian Timber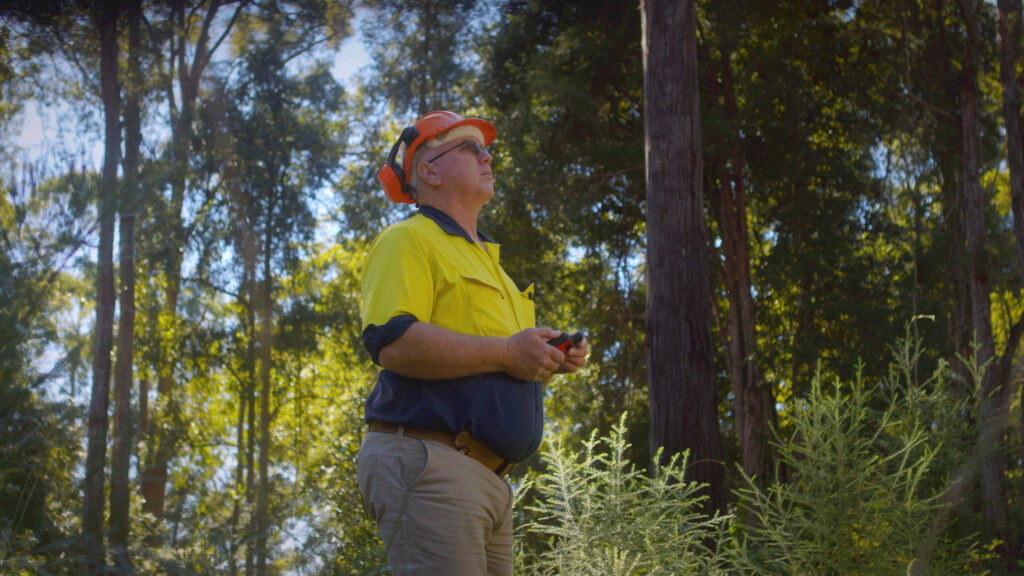 The source of our products is high on today's agenda. With many choosing to buy responsibly sourced products, the timber industry is no different. The new codes of practice include a commitment to ecological sustainable forest management. NSW Local Land Services in partnership with the Natural Resources Commission and NSW Forest Monitoring Steering Committee is developing a monitoring framework to understand the effectiveness of the codes and identify areas for improvement. The framework will also provide important information to maintain and improve the health, productive capacity and biodiversity of private native forests.
To actively manage your private native forest, the first step is to get a Private Native Forestry (PNF) plan in place.
Engaging a suitably qualified forestry management professional to assist with this process is considered best practice.
Read more about Private Native Forestry (PNF) Plans.
What are my trees worth in 2023?
Most timber once harvested is transported to a local sawmill, where it is priced per cubic metre in its raw form. Royalties paid to the landowner vary between $100 – $200 per cubic metre depending on the type. Timber can also be transformed into tongue and groove flooring, where it can earn royalties of up to $3 per linear metre. Our technologically advanced approach to sustainable harvesting of the whole tree, enables more usable timber and less wastage. This combined with our long standing relationships with the best sawmills enable us to maximise our clients returns with most landowners earning between $50,000 and $200,000 per harvest. Click here for more info on how to get the best return on your timber.
Listed below are the current market rates for raw form timber when supplied to a sawmill and the amount the landowner can expect to receive back in royalties.
Australian Hardwood Timber Royalties*
*These represent an average across sawmills located in North NSW as at January 2023 and are to be used as a guide only. Market rates can fluctuate and pricing can differ between sawmills and locations.
Royalties paid to the landowner vary from $20 – $350 per cubic metre (depending on the product type harvested), for the following example coastal species:
Coastal Blackbutt
Spotted Gum
Grey Ironbark
Tallowwood
Platinum Tier – approx $150 -$200 per cubic metre for the following example coastal and tableland species:
Sydney Blue Gum
Brush Box
Silvertop Stringybark
New England Blackbutt
New England Stringybark
Gold Tier – approx $100-$150 per cubic metre for the following example species:
Silver Tier  – approx $50 – $100 per cubic metre
Read more about what your trees are worth.
Need help valuing the timber potential within your private native forest?
We are here to help. With several decade of experience in private forest management, we know a thing or two about the trees you'll find on your property. We can help you identify your tree types, health, and forestry potential as part of our no-obligation-free forest assessment and valuation.
Sustainable Forest Management operates along the East Coast, with a core focus on Northern NSW.
Get in touch today for an appraisal of your private native forest. We'd love to hear from you.