Without a doubt 'how to sell my trees?', 'how much are my trees worth?' and 'what is the best way to sell my timber?' are the most popular questions we get asked.
As landowners in Australia, many will be the owners of private native forest. Perhaps you have had your forest harvested for timber before, or perhaps it is the first time, either way, markets, rates and processes will have changed. As timber harvesting is only something undertaken once every 20 years or so depending on your forest condition.
This blog provides everything you need to know with regards to selling your trees in NSW and SE QLD. If you are interested from other areas on the East Coast please get in touch as we still may be able to assist.
---
So, how much are my trees worth?
The value of your trees is mostly determined by species, size, quality and location. Some species grow more consistently healthy and will recover a higher percentage of quality sawn timber. Additionally larger trees can produce larger end sections (sizes) – which are worth more per cubic metre.
There has been a drastic shortage of Australian Native timber over the past decade, especially within the last five years where there has been a simultaneous increase in the number of new homes being constructed, and a decrease in available timber due to bushfires and flooding. This has seen the market value for timber continue to grow.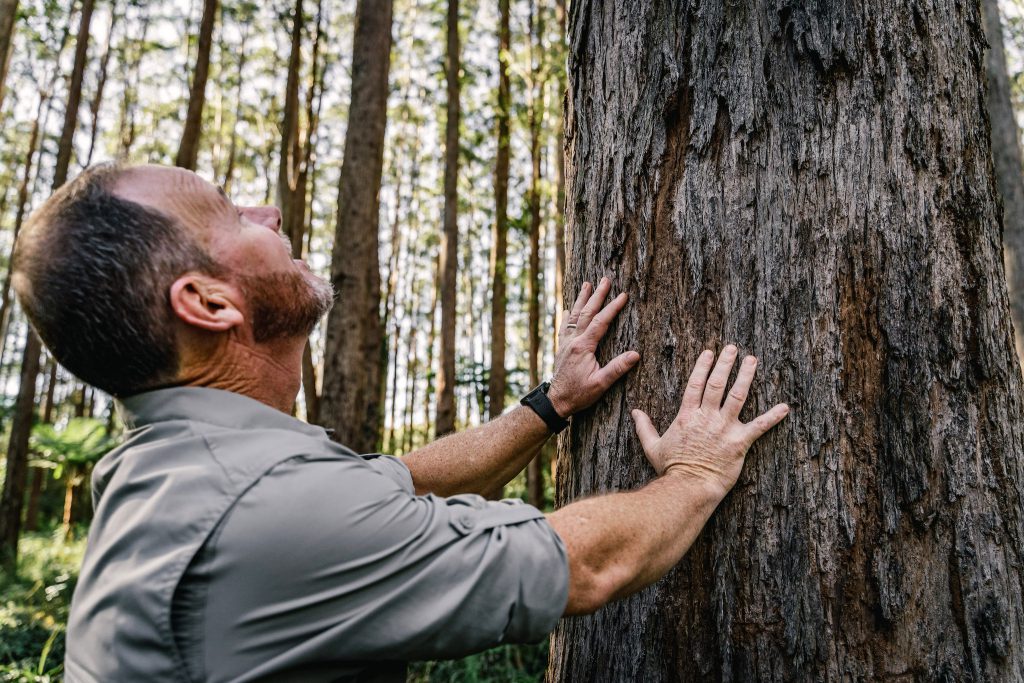 Coastal Blackbutt is in particularly high demand, as a fire retardant species, it is highly sought after for home constructions in areas of bushfire risk.
All of our sustainable harvesting operations typically yield between $1,000 and $5,000 (and in some cases upward of $10,000) royalty per hectare harvested.
Our strong established relationships as the market leader, enable us to ensure the best rates for your timber.
How to sell my trees in 3 simple steps.
Selling your trees in Australia is a three-stage process. The first is to connect with a potential buyer.
Find a Prospective Buyer.
Obtain a Written Assessment and Valuation.
Complete a Timber Harvest Agreement.

Finding a Buyer to sell my trees to.
In NSW and SE QLD this will be a private native forest management company or sole contractor. An in person inspection and assessment is recommended to obtain a timber valuation. Keep in mind that you want to achieve the maximum returns for timber whilst balancing the long term value of your asset by protecting the future of your forest.
Usually in selling your trees there are no costs incurred by the seller. The purchaser covers all costs of the harvesting operation, including transport to the sawmill. You in return will be paid a royalty fee per cubic metre for your timber.
Sustainable Forest Management are the industry leaders with over 60 years experience across the region. We provide free on-site forest assessments to determine suitability for sustainable harvesting including free forest valuation. Plus free personalised advice on the long-term sustainable management of your private native forest.
There is no obligation to commit to timber harvesting, we will only recommend this where it is the best long term solution for your forest.
Receive a Written Assessment & Valuation.
The second stage is to receive a written assessment report and estimated valuation of your timber. The value of your timber will depend on the type of tree, the volume harvested and current market rates. Keep in mind that different forest management companies use differing levels of harvesting and this will impact the amount of saleable timber you have as a result.
At Sustainable Forest Management we only harvest timber where it sustainable to do so, with minimal impact to the natural habitat and protection of your forest for future growth. Our approach ensures more of the tree is harvested than that of our competitors, therefore minimising wastage and maximising returns. Our solid and long-standing partnerships within the industry ensure maximum royalties for your timber.
Complete a Timber Harvest Agreement.
The next stage is to receive a timber harvest agreement which outlines the royalties you will receive for each cubic meter of timber by type from Veneer and Girders through to Poles, Pulp and Firewood. The agreement will also define the payment terms and grants authorisation for the purchaser to apply for the relevant Private Native Forest Plans and/or Logging Approvals.
Once the agreement has been signed by both parties it is then up to the wood purchaser to do the rest including the preparation of a Private Native Forest Plan and accompanying Forest Operations Plan. You should be informed of any compliance reporting you may be required to do. A prudent forest owner will, however, still regularly visit the harvesting operation and keep an eye on how operations are going.
With Sustainable Forest Management we have all of that covered and more. Our engagement with you doesn't end as soon as we have harvested your trees. In fact our long term partnership has just hopefully just started. We will be back to visit your forest to replant or regenerate the land as part of our active forest management and industry first reforestation program.
You can find out more about our Reforestation program here.